This commentary critiques a questionable study in which researchers essentially dismissed participants who had been raised on porn, and concluded that porn is unlikely to be a factor in ED.
Urologist, researcher and professor Gunter De Win and his team then published this response, in which he highlights the findings of his own research.
Here are some of the most interesting excerpts (as the response itself is behind a paywall).
There is sufficient empirical evidence to assume that pornography can influence sexual function.

____________________________

In younger age groups, the reported incidence of erectile problems is increasing.

____________________________

More than 70% of patients with high [porn addiction] scores and ED do not report feeling shame or guilt regarding their porn consumption, and there was no difference in levels of shame between the ED and non-ED patients.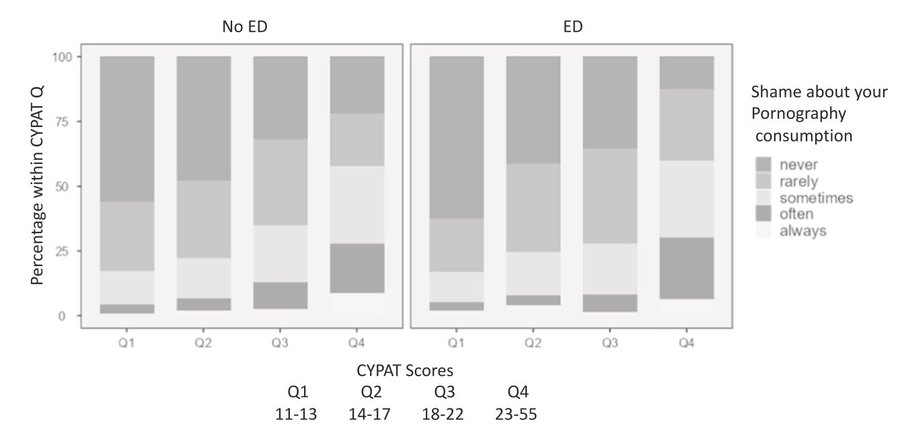 ---
There was a clear association between CYPAT [porn addiction] scores and erectile dysfunction, with rates of ED ranging from 12% (lowest Quartile CYPAT scores(11–13)) to 34.5% (highest quartile CYPAT scores (23–55)) and even 49.6% among participants with CYPAT scores >28.

---

Porn consumption has no direct physiological effect on erectile function, but it might have a problematic effect on the patient's arousal.

---

The few longitudinal studies among young people published thus far suggest increased problematic consumption in young adults 3 years after higher baseline levels of porn consumption and a decreased quality in young men's sex life.

---

The 'rebooting' methods proposed on …online forums are not properly based on scientific evidence, but for some, they do work.

---

On patients' forums, [the] absence of erections during "rebooting" is often described as a "flatline", and for some patients, this can last for several months after their erections improve.

---

Clinicians seeing patients with ED should take the lead and assess the impact of pornography (and refraining from pornography) on erectile function. It is important to enhance understanding regarding the interplay between porn consumption and sexual arousal in clinical samples of young men (as well as young women who use porn).

---

Asking young ED patients if they can achieve and maintain a satisfactory erection during masturbation with and without porn can be helpful," …[Can add] but checking if the patient recently refrained from pornography can also be useful.

---

Enhanced awareness is necessary among clinicians who treat patients with ED.
---
For more research visit this page that lists over 50 studies linking porn use/porn addiction to sexual problems and lower arousal to sexual stimuli. The first 7 studies in the list demonstrate causation, as participants eliminated porn use and healed chronic sexual dysfunctions.