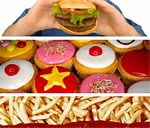 by Jenny Hope
Eating junk food can make you depressed, doctors have warned.
Those who regularly eat high-fat foods, processed meals, desserts and sweets are almost 60 per cent more likely to suffer depression than those who choose fruit, vegetables and fish.
Researchers claim their study is the first to investigate the link between overall diet and mental health, rather than the effects of individual foods.
Dr Eric Brunner, one of the researchers from University College London, said: 'There seem to be various aspects of lifestyle such as taking exercise which also matter, but it appears that diet is playing an independent role.'
The study, in the British Journal of Psychiatry, used data on 3,486 male and female civil servants aged around 55. Each participant completed a questionnaire about their eating habits and a self-report assessment for depression five years later.
The researchers found that those with the highest consumption of processed food were 58 per cent more likely to be depressed five years later than those eating the least amount.
The researchers suggest several reasons for the protective effect of a healthy diet. They believe that high levels of antioxidants in fruits and vegetables protect against depression, as does the folate found in broccoli, cabbage, spinach, lentils and chickpeas.
Eating more fish may be protective due to high levels of polyunsaturated fatty acids, it is claimed.
However, it is possible the effect comes from a 'whole food' diet that has many nutrients from different types of food rather than one single nutrient.
Dr Brunner, a reader in epidemiology at UCL, said the reverse was also important, that poor eating habits put more of a strain on the body.
He said: 'If your diet is high in foods that make blood sugar levels go up and down like a yo-yo, then it's not good for your blood vessels and is bound to have an effect on the brain.'
Dr Andrew McCulloch, chief executive of the Mental Health Foundation, said: 'We are particularly concerned about those who cannot access fresh produce easily or live in areas where there are a high number of fast food restaurants and takeaways.'
NOTE: The study only points out a correlation rather than a causation. However, a site member recommends the article below. It describes research showing a causal relationship between diet/exercise and mental health.