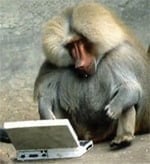 Would you pay to see a monkey's backside? I hope not. Monkeys will, and I guess that's okay, though it sounds awfully close to the sort of thing that lands guys in jail here in the human realm.
A new study found that male monkeys will give up their juice rewards in order to ogle pictures of female monkey's bottoms. The way the experiment was set up, the act is akin to paying for the images, the researchers say.
The rhesus macaque monkeys also splurged on photos of top-dog counterparts, the high-ranking primates. Maybe that's like you or me buying People magazine.
The research, which will be detailed in the March issue of Current Biology, gets more interesting.
The scientists actually had to pay these guys, in the form of extra juice, to get them to look at images of lower-ranking monkeys.
Curiously, the monkeys in the test hadn't had any direct physical contact with the monkeys in the photos, so they didn't have personal experience with who was hot and who was not.
"So, somehow, they are getting this information by observation — by seeing other individuals interact," said Michael Platt of the Duke University Medical Center.
Next, Platt and his colleagues want to see how people will perform in a similar experiment.
"At the moment, it's only a tantalizing possibility, but we believe that similar processes are at work in these monkeys and in people," Platt said. "After all, the same kinds of social conditions have been important in primate evolution for both nonhuman primates and humans. So, in further experiments, we also want to try to establish in the same way how people attribute value to acquiring visual information about other individuals."
The study, announced Friday, is far from monkey business. It was sponsored by the National Institute of Mental Health and the Cure Autism Now Foundation. The goal is to learn more about the social machinery of the brain with an eye toward helping autism patients.
"One of the main problems in people with autism is that they don't find it very motivating to look at other individuals," Platt said. "And even when they do, they can't seem to assess information about that individual's importance, intentions or expressions."
The monkeys provide "an excellent model for how social motivation for looking is processed in normal individuals," Platt said. "And, it's a model that we can use to explore the neurophysiological mechanisms of those motivations in a way we can't do in humans. For example, we can use drugs that affect specific neural processes to explore whether we can mimic some of the deficits found in autism in these animals."
---
Monkeys pay per view: adaptive valuation of social images by rhesus macaques.
Curr Biol. 2005 Mar 29;15(6):543-8.
Abstract
Individuals value information that improves decision making. When social interactions complicate the decision process, acquiring information about others should be particularly valuable. In primate societies, kinship, dominance, and reproductive status regulate social interactions and should therefore systematically influence the value of social information, but this has never been demonstrated. Here, we show that monkeys differentially value the opportunity to acquire visual information about particular classes of social images. Male rhesus macaques sacrificed fluid for the opportunity to view female perinea and the faces of high-status monkeys but required fluid overpayment to view the faces of low-status monkeys. Social value was highly consistent across subjects, independent of particular images displayed, and only partially predictive of how long subjects chose to view each image. These data demonstrate that visual orienting decisions reflect the specific social content of visual information and provide the first experimental evidence that monkeys spontaneously discriminate images of others based on social status.
---