Does watching too much porn make you gay? No, but it might make you bi.
Earlier this month, xHamster launched an ambitious internal study — the xHamster Report on Digital Sexuality — compiling data on our porn users age, gender, sexuality, relationship status, political views, viewing habits and more, to try to understand just who watches what and why. Over 11,000 users completed this survey.
While we're just beginning to process the data, one number jumped out at us immediately. Over 22.3% of all US-based xHamster visitors consider themselves bisexual. Only 67% consider themselves to be entirely "straight."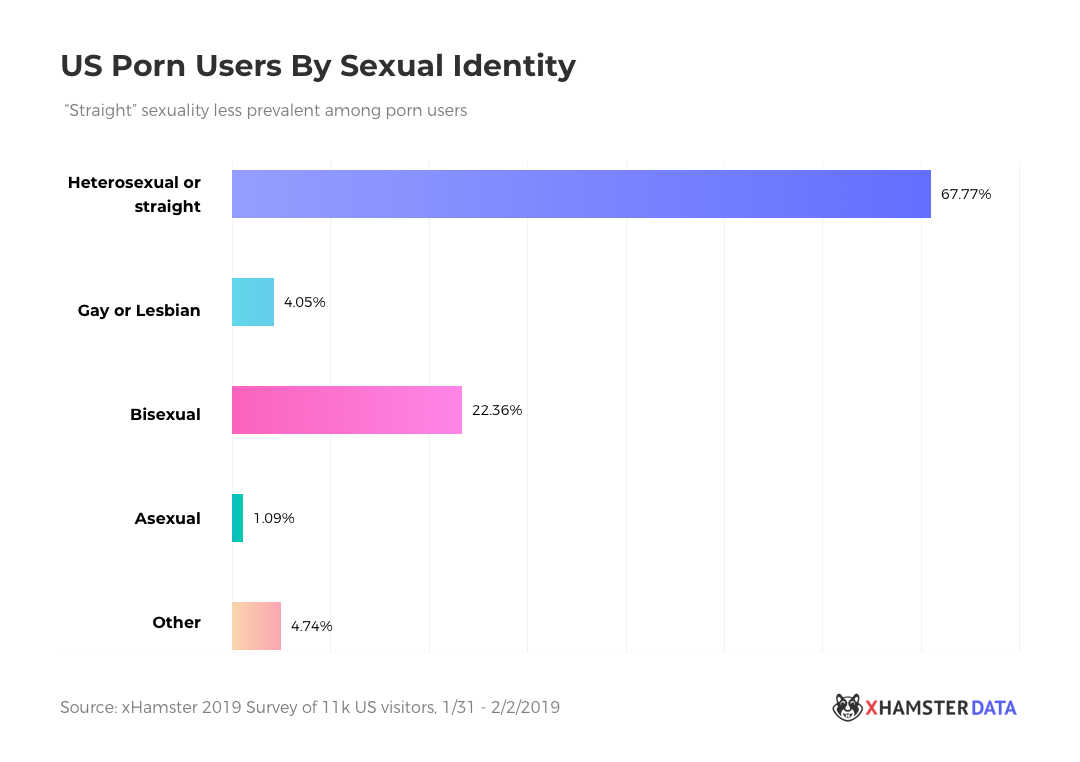 At first, we thought there was something wrong with the numbers, or the study design. But as we dug deeper, we saw a consistency with their answers — from relationship status, to what porn they viewed, to where they lived — that supported the numbers.
And while women who watch porn were more than twice as likely as men to identify as bisexual, nearly one-fifth of men in the study identified so as well. These are much higher numbers than have been previously reported.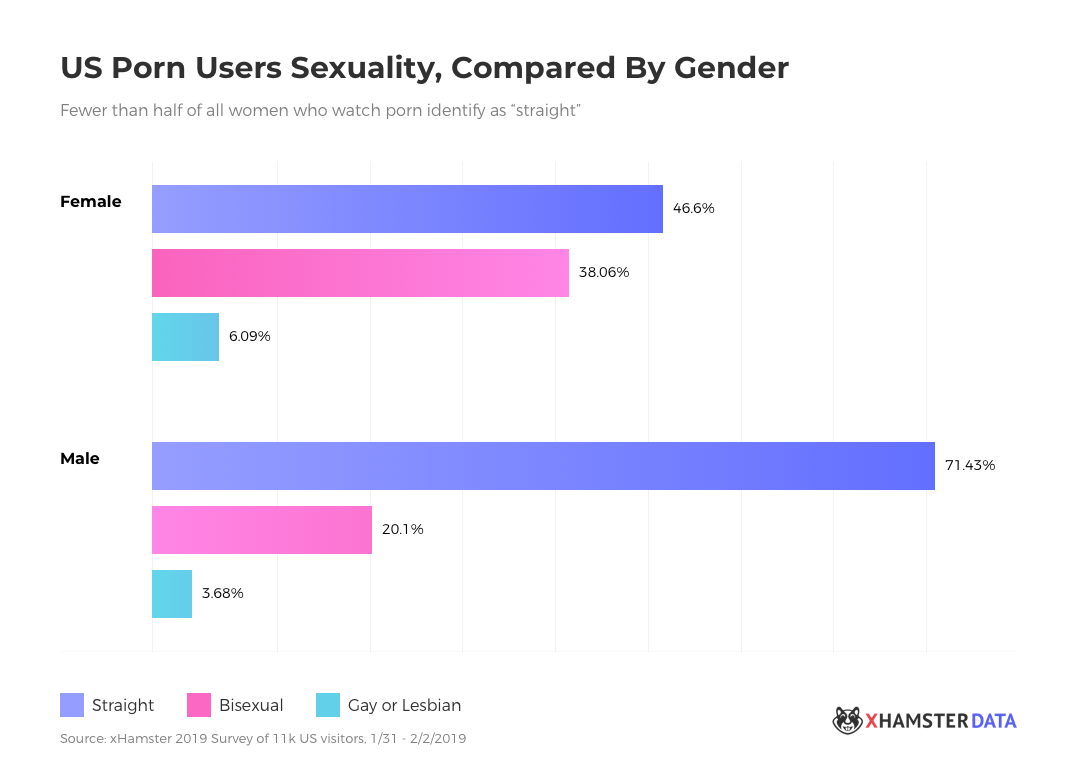 Now, while we like to think of ourselves as enlightened bunch, we're not a particularly bi site, let alone a gay one. We're just your (above) average tube site with primarily heterosexual content.
So we wondered, is there something about watching porn that opens up users to the idea of a more fluid sexuality. The answer is … it may.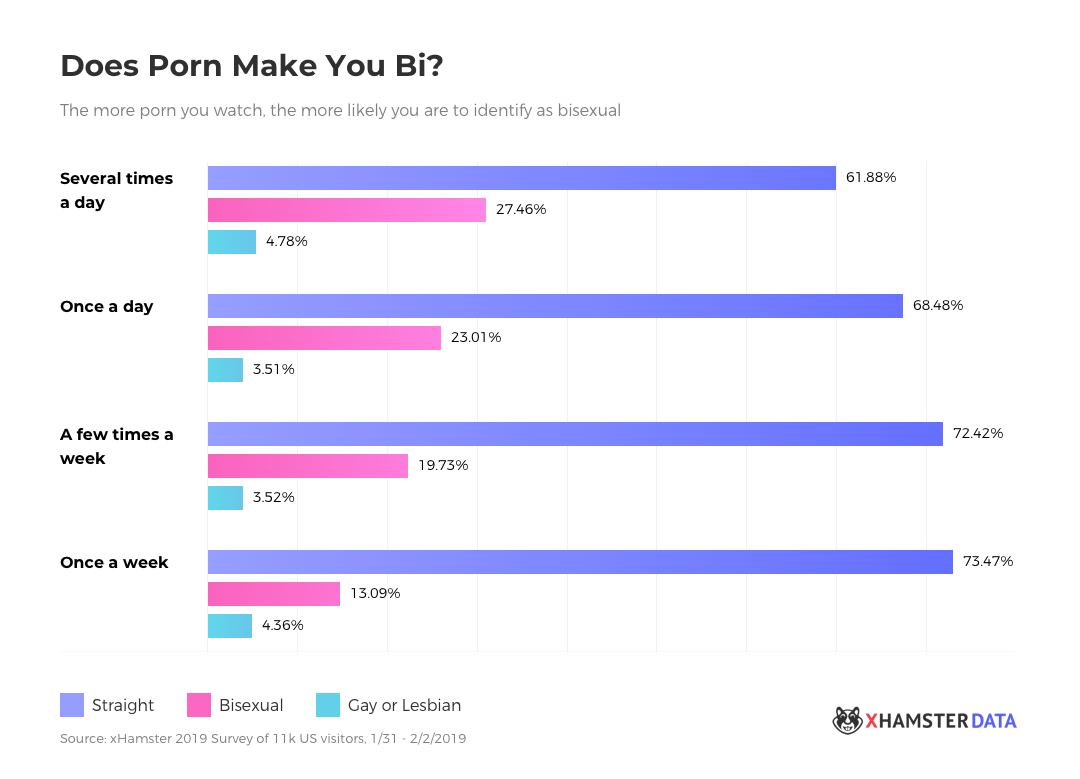 We compared responses from users who watch porn once a week, with users who report watching it several times a day. Porn fans who watched multiple times a day were more than twice as likely to identify as bisexual as porn fans who watched only once a week (27% vs 13%).
As you can see, there's a direct correlation between the amount of time a person spends watching porn, and whether or not they identified as bisexual. (It doesn't seem to have an affect on gay identity — that stays in a pretty narrow range.)
We also wondered if there was some way that women porn fans — 38% of whom in our study identified as bisexual — might be somehow skewing the data. So we repeated the calculations with just men. The results were even more dramatic.
Just 10.8% of men who watched porn once a week identified as bisexual, but 27.2% of men who watch porn multiple times a day identify as bisexual. (After all, if you're looking at naked men all day — even if there's a woman in the picture — maybe it opens you up to a broader ideas about human sexuality.)
Now, we should stress that correlation is not causation. Bisexual and gay people both report greater frequency of viewing of porn, and a lower stigma associated with watching it. (Both groups are also less likely to be married, and thus might have greater freedom to watch. But again — we didn't see any significant correlation between frequency of viewing, and gay identification.)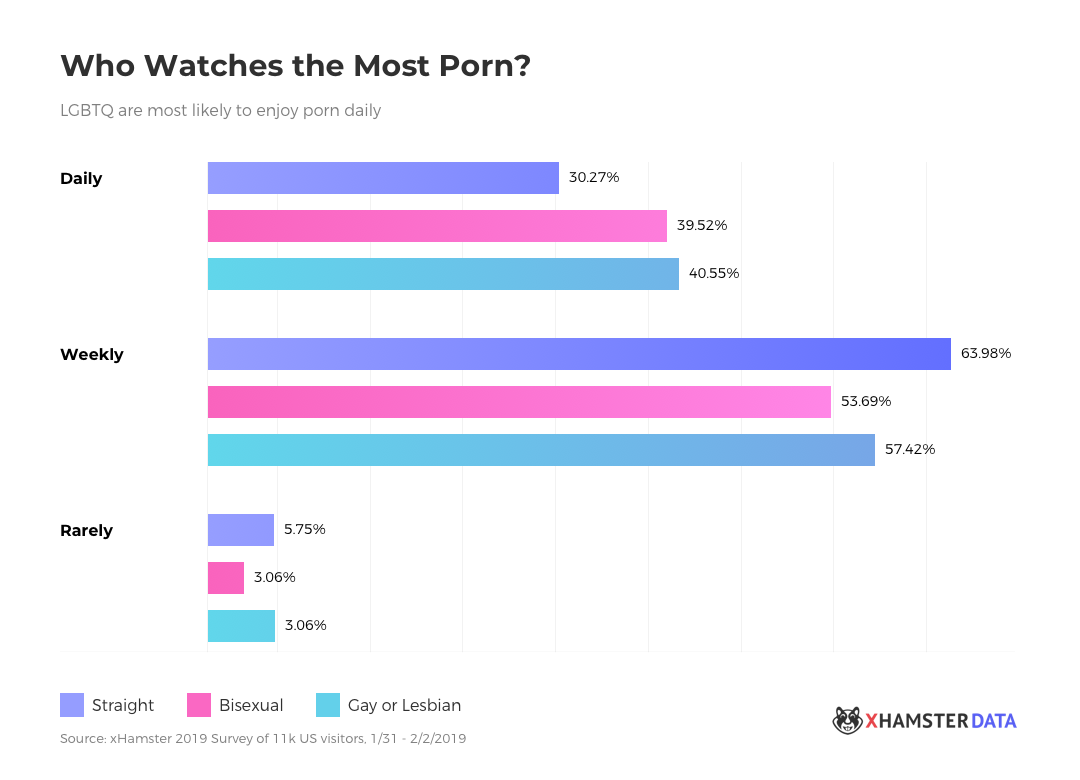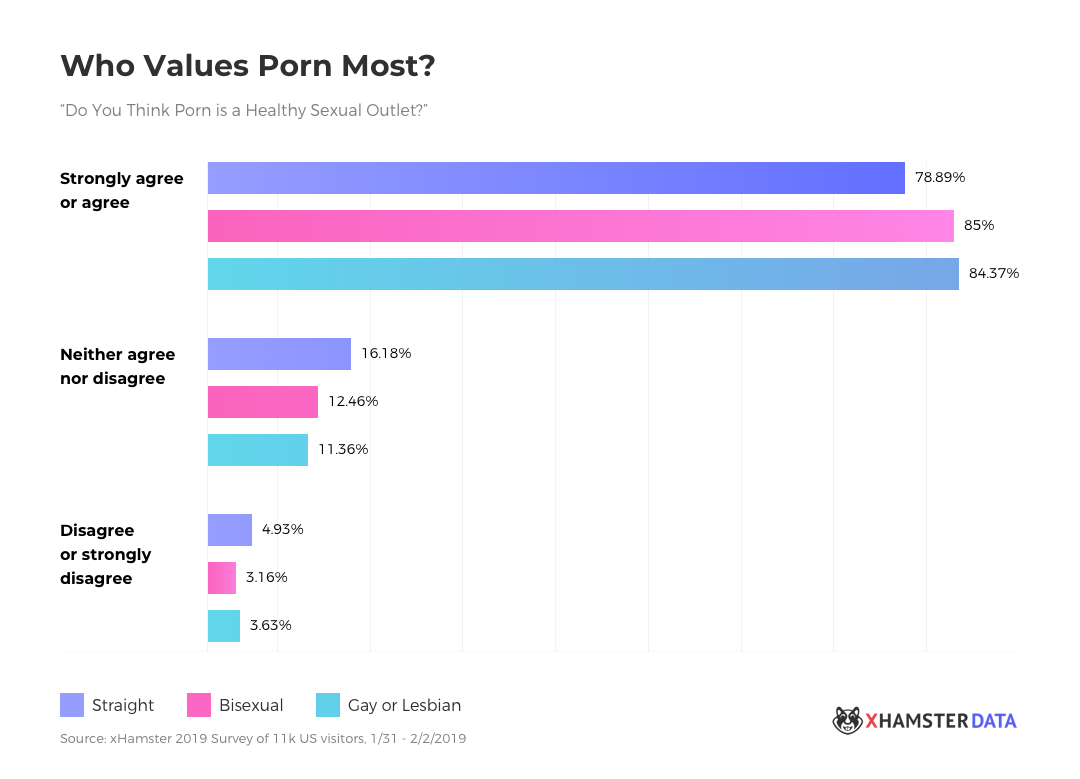 In fact, of all the groups measure, those who identify as bisexual were most likely to agree with the statement "Porn is a Healthy Sexual Outlet" and least likely to disagree. (They are also the least likely to be religious, and more likely to pay for porn than heterosexuals.)
Is xHamster part of a plot to neuter red-blooded American men? Nah. But do we welcome our bisexual overlords? Yes! They're more progressive, more tolerant, and have a more positive outlook on sexuality. Plus they love EVERYTHING WE DO.
We'll be releasing more data from the xHamster Report on Online Sexuality in the days and weeks to come. In the meantime, here's a quick guide to what bisexual men and women like most!