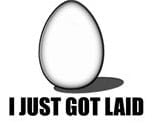 Here's an excerpt from Synopsis of entire reboot, with mood chart.)
Day 57 of no MO, day 64 of no P – successful, great, 'normal' sex, with condom.
History: I've never liked using condoms – frequently never got around to sex because I'd lose erection even thinking about having to get one out and use it. Frequently lost erection putting the condom on. Frequently lost erection once inside.
Last night: Stiff 🙂 Stayed as stiff while getting condom out, putting condom on, while starting sex and finding we needed lubrication, through getting the lubrication, putting the lubrication on, having sex. All with exemplary stiffness 🙂 My erection was just so natural, and correlated with being turned on, and felt so right, that somehow I just knew that it would stay with me through the condom shenanigans.

And the sex felt as great as sex used to without a condom – I suspect because of the increased drive and increased sensitivity down there. I'm really excited about having sex with a condom with her again, which has never happened before. Sex without condom used to be exciting enough for me to want to repeat, sex with condom fell the other side of the line and wasn't worth it. But now I'd be more than happy to repeat the experience, several times 🙂
Orgasm itself very strong and pleasurable. None of the things I worried about happened: I was able to keep from coming for a perfectly acceptable length of time – in fact, I didn't even really think about it, it just seemed like a normal, healthy sexual interaction. When I did come, my head didn't explode and I didn't rupture any blood vessels anywhere and I didn't bellow '8 FUCKING WEEKS!!' in her ear like I thought I might. In fact, it was just beautiful, intimate, very pleasurable sex 🙂
Guys, stick at this. The goal that you are striving towards is real and amazing – I guarantee that it is 100% worth the effort and will not disappoint. Allow yourself to believe that this place is worth going through 3,6 even 12 months of misery and bullshit, because it is. It won't take you that long. It should take 2-3 months. But if it did take a year, hell 5 years, it would still be worth it. Good luck, fellow cock soldiers 🙂
Subsequent post, a couple weeks later
I feel a little bad about airing my private business, but at the same time I want my brothers in cock to have the positive evidence I am in a position to provide so:
Yesterday, sex with a girl. Once with a condom.
Today, sex with another girl. Twice, with a condom, only about 30 minutes apart (I'm 40, people). So strictly speaking, with 2 condoms
All erections very nice and hard, maintained with no problem at all, condom put on in full view of girl (always used to be a danger point for me), even taking my time putting it in once the condom was on (I used to get it in as soon as possible hoping to regain the rapidly flagging erection).
This is miraculous. And I am definitely cured.
Oh, and the sex felt really great. I could happily use condoms for the rest of my life – felt just like sex without one used to. I'm sure I have more sensitivity in my cock now that I'm not gripping it tightly and boffing it around every evening.
For those asking about ED – I guess I used to have pre-emptive ED. That is, I knew I would get ED, especially if I knew I'd need to use a condom, so I wouldn't even go for sex, well actually I wouldn't even pursue a girl. Two months ago, however, I did end up somehow in bed with a hot girl and no erection, which I found humiliating. That's when I found my way here. Short story – yeah, probably would have had more ED if I hadn't avoided sex through fear of it.
Thanks again so much to everyone who has shared their stories/thoughts/wisdom!
This is the path.