In the links below the text you will find over 2,000 first-hand accounts of people's rebooting (recovery) experiences. We created Rebooting Accounts: page 2 and Rebooting Accounts: Page 3, as our system could not handle so much success on a single page. In addition, 8 pages of shorter stories describing recovery from porn-induced sexual dysfunctions: 1, 2, 3, 4, 5, 6, 7, 8. (so first-hand recovery accounts now total 5,000 or more).
If supplied by the author, a rebooting account starts with the age. Some begin with length of the reboot, others with a quote from the author. Almost all rebooting accounts contain a link to the original post, and most have a user name.
You'll also see a lot of 90-day reports. A common misconception is that YBOP suggests 90 days as a rebooting period. It doesn't. Lengths vary because goals vary. Many choose to write up a report at 90 days, but note that most have relapsed several times before achieving a 90-day streak.
Many more recovery accounts are found in these six sections, and scattered throughout the website:
Commonly used abbreviations:
ED = Erectile Dysfunction
PIED = Porn-induced Erectile Dysfunction
DE = Delayed Ejaculation
PE = Premature Ejaculation
PMO = Porn, Masturbation, Orgasm
MO = Masturbation & Orgasm
HOCD = Homosexual Obsessive Compulsive Disorder
SOCD = Sexual Obsessive Compulsive Disorder
gf – Girlfriend
SO = Significant Other
Fap or fapping = Masturbation
---
This seems to be a typical feature of recovery:
I am proud of living without PMO for two weeks. I'm single but I rely on friends, family, yoga, massage, exercise, and breathing to get by each day. I am learning many natural ways of relaxing and coping with my brain and environment. I'm more relaxed, generous, and appreciative with people. However, I feel great pain, lethargy, apathy, sadness, frustration and loneliness sometimes. The frequency and duration of my time in the Pits is definitely decreasing. There's a lot of comfort remembering that, whenever my dopamine needle drops real low. One problem with improvement is that we forget how messed up we were when we started. LOL
Rebooting is not linear
Rebooting is not linear (repeat this slowly, several times) – That is, each day isn't better than the last. There are ups and downs, although the trend over time is upward. Meanwhile, neurochemically induced mood swings (The Pits) continue for a while. Some people say these mood swings don't decrease in severity for a long while (graph by young rebooter). What changes is that they decrease in frequency, and they pass more quickly when they happen. So it gets easier and easier to just let them pass, and to turn to a healthy distraction (exercise, socializing, a rewiring exercise, doing something productive, and so forth).
Also, watch out for the good days:
Some of my relapses in fact happened on quite successful/happy days, like my mind was on some kind of dopamine rush and slipped to the porn without me having noticed. So keep in mind, self-control is always necessary, even if everything seems to be going just fine.
The  rebooting experience
This man decided to graph his rebooting experience:
I've done 3 graphs, mood on y-axis, day since last MO on x-axis. First is the raw data, not surprisingly very choppy. Shows non-linearity nicely. The other two are rolling 3-day average and rolling 6-day average. Non-linearity still apparent. Note: I didn't know what to put for the first 5 days because they were all over the place, so I just put alternating 8 and 0.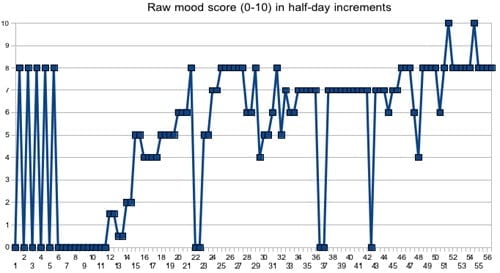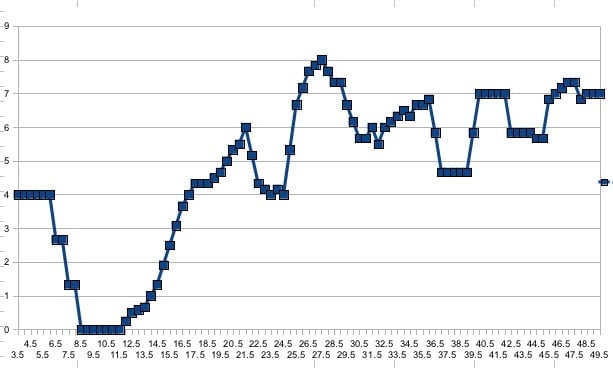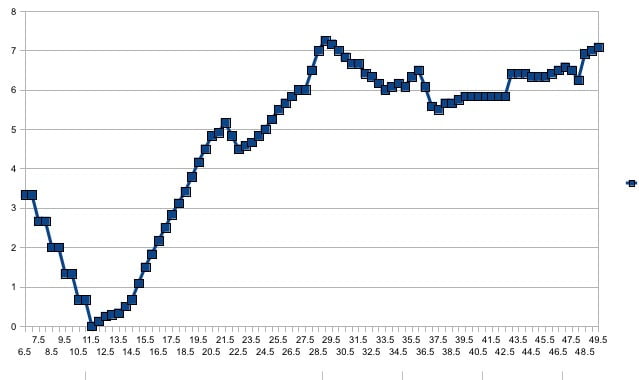 Everyone's experience is somewhat different. It's an adventure to observe how the changes in the brain show up in your body and emotions. Said one guy:
All of these forces are at work: Erections, morning erections, orgasm/urge to orgasm, feeling of horniness etc. I feel like during the rewiring, these forces have all been there, but they are all kind of marching to their own beat. There have been times where I had the urge to O but wasn't horny and didn't have an erection. There have been times when I have felt really horny and felt nothing downstairs. Then there have been long spans of days where I would wake up with an erection and, after it was gone, I would be in complete flatline the rest of the day. But days like day 16, my brief relationship from days 22 to 35, and most importantly day 48 have shown me that things start working more harmoniously as time goes on.