"Internet porn can't be causing problems for users because porn has been around forever. If it didn't harm us then, it won't harm us now."
Sounds logical but, in fact, this reasoning is faulty. Times have changed—and so have porn and the way porn is delivered to our brains. Streaming porn, smartphone access and now virtual porn have all made it easier to overstimulate the brain.
A Reddit poster once asked, "Are we the first generation to masturbate left-handed because our right hands are browsing porn?" Yes, an entire generation is becoming "ambi-wackstrous" as one wag put it.
Once upon a time, masturbation called for a lot of imagination. It was rehearsal for the real thing: "First I'm gonna do this…and then…." No longer.
"I'm part of the last generation to start masturbating before they had the Internet. I can't fathom having access to visual representations of every possible sexual taste before feeling the biological urge to whack it. When I was a kid, we were all desperate to look at boobs, but the opportunity only came by one or two glorious times a year [via catalog]. I honestly wonder how tits-on-tap affect later generations."
What does this shift mean? Internet porn use more closely parallels videogaming than real sex. It combines your genes' No. 1 priority—and biggest natural reward (sex)—with the constantly changing, ever-novel-and-surprising delivery of "World of Warcraft." Your left hand is applying more pressure and speed than intercourse. Your right hand is clicking away in "search mode," as your eyes dart from one screen to the next and moaning fills your ears. No imaginary orchestration needed.
Porn, and the way it is delivered to our brains, has changed. See Porn Then and Now: Welcome to Brain Training (2011).
Alas, our brains haven't yet adapted, and this can create unexpected problems:
"I've used porn for years. I just like watching people have sex. My problem escalated about 18 months ago when I got high-speed Internet. All of a sudden, I went from just viewing pictures online, to viewing videos and movies online instantaneously. I never really gave it much thought, but after almost daily viewing—sometimes even binging for hours on end watching porn videos—I really began to notice a change in my personal sex life with my wife. I had never really had any ED problems at all. But now, whenever my wife and I start to have sex, I cannot get an erection. Sometimes I get one, but then it quickly starts getting soft. Sex has been almost non-existent for us."
Another guy:
"There's a difference between today's online porn and that of just a couple decades ago. Now, you can go to a variety of websites and find more free porn than you could watch if you quit your job and dedicated your life to it—all in living color. You can even pick your favorite fetish, whatever you find the most intense, and just watch video after video of it. If the intensity wanes for a few seconds, or you get bored with watching the same bodies for two minutes straight, you can jump to a new set doing new things. It has the potential to be far more destructive to your appreciation for the real thing than ever before."
Exactly. Internet porn exploits more than just sexual desire. It drives users beyond their natural libido: Users can watch porn in multiple windows, search endlessly, view constant novelty, fast-forward to the bits they find hottest, switch to live sex chat, fire up their mirror neurons with video action or cam-2-cam, or escalate to extreme genres and anxiety-producing material. It's all free, easy to access via smartphone, available within seconds, 24 hours a day, 7 days a week, and can be viewed at any age. These days, it is enhanced with virtual reality and  sex toys that simulate physical contact.
Zoom into the brain
What drives this unnatural "mating" frenzy? Dopamine. It's the primary neurochemical behind reward-seeking behavior. Dopamine levels are the barometer by which we decide (and remember) the value of any experience. Not surprisingly, sexual stimuli raise dopamine far more than other natural rewards.
Most people think of dopamine as the "buzz," the "sugar high," or the drive towards orgasm. Actually, it spikes in response to stimuli associated with survival needs. It's motivation. It tells us what to approach or avoid and where to put our attention. Further, it tells us what to remember, by helping to rewire our brains.
Internet porn just happens to elicit spikes of dopamine for all of the "salient" stimuli for which we evolved to be on the lookout:
Strong emotions: surprise, fear, disgust
Novelty: new food sources, new predators, new mates
Seeking and searching: exploring territories, foods or mating opportunities
Anything that violates expectations: unexpected bonanzas or dangers
Erotic words, pictures and videos have been around a long time. So has the neurochemical rush from novel mates. Yet the novelty of a once-a-month Playboy evaporates as soon as you turn the pages. Would anyone call Playboy or softcore videos "shocking" or "anxiety-producing?" Would either violate the expectations of a computer-literate boy over the age of 12? Neither compares with the "searching and seeking" of a multiple-tab Google prowl.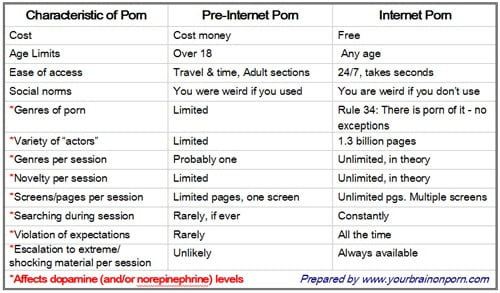 (Click to enlarge chart)
The phrase "Variety is the spice of life" comes from a William Cowper poem (1785) about a guy who courted a different girl every week. But the Internet makes possible a never-ending stream of Tabasco sauce in the form of dopamine spikes. My Google search for "porn" just retrieved about 1.3 billion pages (with "Porn for the Blind" in my top ten). Constant stimulation can interfere with the way we think, even without erotic imagery. In fact, recent studies have shown that compulsive Internet use (videogaming) causes addiction-related brain changes.
"It was getting pretty bad. I would take a chick home and sometimes not even be able to get my d*ck up because porn had rewired my brain and conditioned it to have 5-6 girls at a time. One girl, even though she was there in person, was not doing the trick."
In 2007, Kinsey researchers were the first to report pornography-induced erectile-dysfunction (PIED) and pornography-induced abnormally low libido. Half of subjects recruited from bars and bathhouses, where video pornography was "omnipresent," were unable to achieve erections in the lab in response to video porn. In talking to the subjects, researchers discovered that high exposure to pornography videos apparently resulted in lower responsivity and an increased need for more extreme, specialized or "kinky" material to become aroused. The researchers actually redesigned their study to include more varied clips and permit some self-selection. A quarter of the participants' genitals still did not respond normally. Since then, evidence has mounted that internet pornography may be a factor in the rapid surge in rates of sexual dysfunction.
Why is constant dopamine stimulation so addictive? As neuroscientist David Linden explains, smoking hooks a far greater percentage of users than heroin, even though heroin furnishes a bigger neurochemical blast. Why? It's a question of brain training. Every puff of each of those 20 cigarettes per pack is training the smoker that cigarettes are rewarding. In contrast, how often can someone shoot up? At base addiction is "pathological learning."
In the case of internet porn, think of the constant novelty, the shocking or anxiety-producing visuals, and the clicks in search of the perfect shot as puffs, and orgasm as something stronger. Both train the brain. However, we hear from guys all the time with porn-induced ED, who will give up masturbation to try to heal rather than give up internet porn. They instinctively know where the dopamine drip is:
"I tend to think it's the porn that is the hyper-stimulus resulting in erectile dysfunction, not the masturbation. The odd thing I am finding about my personal experiment is that without online porn, I don't really feel like masturbating. Even when I try, am not aroused enough to masturbate. My mind doesn't fantasize anymore, like it used to when I was a kid in the pre-Internet days."
Today's porn use is more about dopamine hits than climax
Dopamine drives all arousal, but a steady stream of ever changing erotic stimulation is a far more powerful mind-training experience than occasional masturbation to orgasm. This is why online erotica can create powerful addictions in some brains.
Sadly, abundance of dopamine doesn't equal satisfaction. Its message is always, "Satisfaction lies just around the corner, so keep going!" Behavioral addiction research on food, gambling and Internet videogaming shows that too much dopamine numbs the pleasure response of the brain. This indicates addiction processes are creeping in. A numbed brain lead to cravings for more; even the perfect shot will not satisfy. Today's porn doesn't just meet your needs; it distorts them.
Watching a sunset, petting a cat, and watching your favorite team are not the same as more intense pleasures. With normal pleasures, you get dopamine signals and then your brain returns to homeostasis. In contrast, some activities have the potential to dysregulate dopamine long-term.
Indeed, in 2011 the medical doctors of the American Society of Addiction Medicine issued a statement citing sex, food and gambling as potentially addictive activities. They leave no doubt that all addictions—whether to alcohol, heroin or sex—are fundamentally the same. Psychologist Philip Zimbardo, too, has pointed to the dangers of "arousal addiction." (TED talk The Demise of Guys?)
Even young men are warning each other about internet porn. They are also figuring out that porn causes escalation and creates bogus sexual tastes:
"Porn binges for 4-6 hours the last couple days. On the plus side, it did become obvious that  transexual porn is unrelated to my sexuality. After watching for 30+ hours over the past 5 days , transexual porn started to become boring! I began searching for other, more disgusting and shocking stuff."
The qualities of Internet porn affect the brain in unique ways. In addition to constant stimulation, there's no inherent limit to consumption—unlike eating or drugs. Escalation is always possible because the brain's natural satiation mechanisms don't kick in unless one climaxes—which may not be for hours. Even then, users can click to something more shocking to become aroused again. Nor will Internet porn eventually activate the brain's natural aversion system ("I can't tolerate another bite/drink/snort!"). Who can't bear to look at another erotic image? Reproduction is our genes' top priority after all.
Become aware of the symptoms of excess
The belief that "porn use can cause no harm" arose in the era of monthly Playboy. Like it or not, Internet porn is as different from past erotica as "Polemon-Go" is from tic-tac-toe. Self-reports make this evident. Instead of being "just porn," streaming online porn is a new phenomenon, for which evolution has not prepared many brains.
Your ancestors had no Internet or memory banks of porn-based fantasy. If they masturbated, normal libido and their own imagination got the job done. If your sexual responsiveness is decreasing, or you need porn to climax, then you are, in effect, overriding your brain's natural appetite mechanisms, and risking addiction. Wait until your brain returns to normal sensitivity. Withdrawal may be difficult, but tips and support are available.
Your brain didn't evolve to handle today's erotica-at-a-swipe. It doesn't just see videos; it perceives endless fertilization opportunities, and it will use its dopamine "whip" to make sure you fertilize as many as possible—whatever the cost to you. Instead of getting off and getting on with life, today's viewers often continue for as long as they can stay awake—unaware that they may be at risk for addiction or performance problems. As Eliezer Yudkowsky once wrote,
"If people have the right to be tempted—and that's what free will is all about—the market is going to respond by supplying as much temptation as can be sold. Market incentive continues well beyond the point where a superstimulus begins wreaking collateral damage on the consumer."
Learn the signals that indicate excessive porn use. (Read others' self-reports.) You can't go by what your friends are doing, or even by the advice of sexologists or doctors. Go by what you notice.
"Back in the day of dial-up, I was only able to download the occasional picture (very soft-porn) due to bad/slow Internet and not knowing where to find all the smuttery. But now with high-speed, even to mobile phones, it has made me continuously watch more and more and at higher resolution. It sometimes becomes a whole day affair looking for the perfect one to finish on. It never, ever satisfies. "Need more" the brain always says…such a lie."
"As a person who has had an opiate addiction and is currently battling with an addiction to porn, I can say that porn is definitely an authentic addiction. Having started with internet porn at a pretty young age and contacting women over the internet in high school, I acquired negative habits that consistently effect my quality of life. With heroin, at least when I had money I could continue to go to class and have relationships; even at my worst when I was using any number of hard drugs, I was able to retain a relatively decent life. Now, when I consider myself in a good place, I often find myself ruining a long term relationship for essentially abstract sexual situations."
In fact, we hear from guys all the time who are suffering severe symptoms from Internet porn use, but would rather try to give up masturbation to try to solve their problems than to give up viewing Internet porn.
"Speaking purely from personal experience, I tend to think it's the porn that is the hyper-stimulus resulting in erectile dysfunction, not the masturbation. The odd thing I am finding about my personal experiment is that without online porn, I don't really feel like masturbating and even when I try, am not aroused enough to masturbate. My mind doesn't fantasize anymore, like it used to when I was a kid in the pre-porn days."
For studies on porn users see –
These lay articles point out that the internet is a unique stimulus
---
 Here are signs others have noticed:
I was escalating into some of the worst porn, and even then I wasn't getting much relief, even after wasting hours a day.
---
In my case, it's been low motivation (I don't care), always tired, brain-fog, difficulty concentrating, social anxiety, depression, etc. I knew something wasn't right with me (and close friends & family knew too), but I just couldn't put my finger on it (or didn't want to).
---
At the peak of my porn use, orgasm ceased to feel good anymore. It was just a way of self-medicating.
---
I began looking at porn at 11-12 and lost my virginity around 22. The girl had to forcefully jack me off for me to come. My penis was completely numb to a vagina. I would get hard during foreplay, but I couldn't have sex for more than a few minutes without going soft.
---
When I was a child I remember being very outgoing with lots of motivation. That all changed when I was about 14. I would spend entire weekends and evenings watching porn.
---
I find when I don't watch for a long period of time, I don't need to urinate as frequently. It got pretty bad during heavy use; I was using the toilet a lot! Also, I used to worry that my friends were talking about me behind my back, so my perception of what people say/think becomes distorted when I'm binging.
---
After years of use, the symptoms that began to show at age 25 were: strange headaches, a very shallow and almost tight voice, I could feel dry inside my eyes and feel dry in the face in general. At morning, I could feel a strange unpleasant feeling in my whole body. I couldn't focus on my studies for longer than 40 minutes before getting the same strange feeling in my body, which made me nap. I was crazy. Then I thought I had diabetes (low blood sugar), bad vision (I tested my vision which was perfect). I even thought I had ADD or ADHD, because I could be pretty impulsive from time to time. In addition to that, I was feeling pretty insecure in social meetings and didn't feel safe and comfortable around people in general.

I felt like a child sometimes. Impulsive, restless and so on. I could even feel how my sex appeal was down at zero. But I couldn't do anything about it! Finally, after going for about two weeks without porn or masturbation I felt great. All of the symptoms listed above were gone and I felt so calm and comfortable socially. My speech was firm, stable and calm. I laughed and smiled with my whole face. I got charming and could flirt. The feeling of lacking sex appeal was gone and I even noticed better response and reactions from the people around me. I got better connections with my friends, family, co-workers and of course girls.
---
I developed debilitating social anxiety, depression, lack of drive, physical exhaustion, mental exhaustion, couldn't hold a job, couldn't even walk down the university halls without feeling scared to death of people, felt creepy around females from young to old etc.
---
My mood plummets after binging; I get easily annoyed with people. It puts me in a one track state of mind all I can think about is porn. It disrupts my sleep; when I go to bed I have a kaleidoscope of porn in my head. It's annoying to find myself doing the same thing over and over.
---
To many of us (myself included), ED was the first real concrete/shocking sign that shakes us up, and makes us realize that something isn't right.
---
I used to be quite energetic when I was 16-17. My porn-period started halfway through 18. I started becoming a chilled guy, and using caffeine like a maniac. I did not feel any strong emotions at all.
---
In my youth, I used to walk into a room and people would notice me and be attracted to me and want to talk to me. When I walked down the street I felt a confidence and energy, and girls would notice that and acknowledge me. As the years rolled by, porn use increased and that energy slowly went away. My social life suffered. I always attributed it to aging, but I was wrong. I'm very relieved that I have identified the culprit. I can feel that energy coming back now.
---
Remember, your ancestors had no Internet porn or memory banks of porn-based fantasy. If they masturbated, it was because desire and their own imagination alone did the job. If your sexual responsiveness is decreasing, or you need porn to climax, then you are, in effect, overriding your brain's natural satiety mechanisms. And if you can't climax without porn, wait until your brain returns to normal sensitivity. This may be difficult while your brain is returning to normal, but tips and support are available at many websites.
---