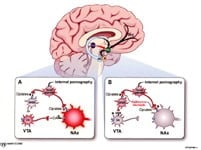 This FAQ is now obsolete as the world's most widely used medical diagnostic manual, The International Classification of Diseases (ICD-11), contains a new diagnosis suitable for porn addiction and cybersex addiction: "Compulsive Sexual Behavior Disorder." The current state of the scientific research supports the existence of porn addiction and porn-induced sexual dysfunctions. For example, a few lists:
The goal of this review was to synthesize empirical investigations testing effects of media sexualization. The focus was on research published in peer-reviewed, English-language journals between 1995 and 2015. A total of 109 publications that contained 135 studies were reviewed. The findings provided consistent evidence that both laboratory exposure and regular, everyday exposure to this content are directly associated with a range of consequences, including higher levels of body dissatisfaction, greater self-objectification, greater support of sexist beliefs and of adversarial sexual beliefs, and greater tolerance of sexual violence toward women. Moreover, experimental exposure to this content leads both women and men to have a diminished view of women's competence, morality, and humanity.
What about sexual aggression and porn use? Another meta-analysis: A Meta‐Analysis of Pornography Consumption and Actual Acts of Sexual Aggression in General Population Studies (2015). Excerpt:
22 studies from 7 different countries were analyzed. Consumption was associated with sexual aggression in the United States and internationally, among males and females, and in cross-sectional and longitudinal studies. Associations were stronger for verbal than physical sexual aggression, although both were significant. The general pattern of results suggested that violent content may be an exacerbating factor.
"But hasn't porn use reduced rape rates?" No, rape rates have been rising in recent years: "Rape rates are on the rise, so ignore the pro-porn propaganda." See this page for over 100 studies linking porn use to sexual aggression, coercion & violence, and an extensive critique of the often-repeated assertion that an increased availability of porn has resulted in decreased rape rates.
What about the porn use and adolescents? Check out this list of over 270 adolescent studies, or these reviews of the literature: review#1, review2, review#3, review#4, review#5, review#6, review#7, review#8, review#9, review#10, review#11, review#12, review#13, review#14, review#15. From the conclusion of this 2012 review of the research – The Impact of Internet Pornography on Adolescents: A Review of the Research:
Increased access to the Internet by adolescents has created unprecedented opportunities for sexual education, learning, and growth. Conversely, the risk of harm that is evident in the literature has led researchers to investigate adolescent exposure to online pornography in an effort to elucidate these relationships. Collectively, these studies suggest that youth who consume pornography may develop unrealistic sexual values and beliefs. Among the findings, higher levels of permissive sexual attitudes, sexual preoccupation, and earlier sexual experimentation have been correlated with more frequent consumption of pornography…. Nevertheless, consistent findings have emerged linking adolescent use of pornography that depicts violence with increased degrees of sexually aggressive behavior.
The literature does indicate some correlation between adolescents' use of pornography and self-concept. Girls report feeling physically inferior to the women they view in pornographic material, while boys fear they may not be as virile or able to perform as the men in these media. Adolescents also report that their use of pornography decreased as their self-confidence and social development increase. Additionally, research suggests that adolescents who use pornography, especially that found on the Internet, have lower degrees of social integration, increases in conduct problems, higher levels of delinquent behavior, higher incidence of depressive symptoms, and decreased emotional bonding with caregivers.
Aren't all studies correlative? Nope: Over 90 Studies demonstrating internet use & porn use causing negative outcomes & symptoms, and brain changes.
Want to see papers that bear on internet porn's addictiveness? Here are recent neuroscience-based reviews of the literature, which focus on research on porn users:
See Questionable & Misleading Studies for highly publicized papers that are not what they claim to be.
Recent studies assessing brain structure & functioning of Internet porn users:
Together these neurological studies reported:
The 3 major addiction-related brain changes: sensitization, desensitization, and hypofrontality.
More porn use correlated with less grey matter in the reward circuit (dorsal striatum).
More porn use correlated with less reward circuit activation when briefly viewing sexual images.
And more porn use correlated with disrupted neural connections between the reward circuit and prefrontal cortex.
Addicts had greater prefrontal activity to sexual cues, but less brain activity to normal stimuli (matches drug addiction).
Porn use/exposure to porn related to greater delayed discounting (inability to delay gratification). This is a sign of poorer executive functioning.
60% of compulsive porn addicted subjects in one study experienced ED or low libido with partners, but not with porn: all stated that internet porn use caused their ED/low libido.
Enhanced attentional bias comparable to drug users. Indicates sensitization (a product of DeltaFosb).
Greater wanting & craving for porn, but not greater liking. This aligns with the accepted model of addiction – incentive sensitization.
Porn addicts have greater preference for sexual novelty yet their brains habituated faster to sexual images. Not pre-existing.
The younger the porn users the greater the cue-induced reactivity in the reward center.
Higher EEG (P300) readings when porn users were exposed to porn cues (which occurs in other addictions).
Less desire for sex with a person correlating with greater cue-reactivity to porn images.
More porn use correlated with lower LPP amplitude when briefly viewing sexual photos: indicates habituation or desensitization.
Dysfunctional HPA axis and altered brain stress circuits, which occurs in drug addictions (and greater amygdala volume, which is associated with chronic social stress).
Epigenetic changes on genes central to the human stress response and closely associated with addiction.
Higher levels of Tumor Necrosis Factor (TNF) – which also occurs in drug abuse and addiction.
A deficit in temporal cortex gray matter; poorer connectivity between temporal corporate and several other regions.
Greater state impulsivity.
Decreased prefrontal cortex and anterior cingulate gyrus gray matter compared to healthy controls.
What about neurological studies that debunk porn addiction? There are none. While the lead author of Prause et al., 2015 claimed her lone EEG study falsified pornography addiction, 9 peer-reviewed papers disagree:  The neuroscientists on these 8 papers state that Prause et al. actually found desensitization/habituation (consistent with the development of addiction) as less brain activation to vanilla porn (pictures) was related to greater porn use. Unbelievably, the Prause et al. team boldly claimed to have falsified the porn addiction model with a single paragraph taken from this 2016 "letter to the editor." In reality the Prause letter falsified nothing, as this extensive critique reveals: Letter to the editor "Prause et al. (2015) the latest falsification of addiction predictions" (2016).
---
While we wait for further brain studies on porn users, over 340+ brain studies have already confirmed that "Internet addicts" develop the same major brain changes that occur in all addictions  However, these studies did not separate out porn addiction from other types of Internet addictions. Who uses the Internet for only porn? In fact, researchers have already looked into the brains of over-eaters, Internet users and video-gamers (and drug addicts). In each case, researchers have discovered that non-drug stimuli at sufficient intensity cause three major brain changes caused by addiction – desensitization, sensitization, and hypofrontality. (Also see: Internet Addiction Summaries, Recent Internet Addiction Brain Studies Include Porn, and Internet Addiction Studies Containing Excerpts About Porn).
Why are there not even more studies on porn users? Sexual politics once obscured the increased vulnerability of those pursuing cybersex/porn. A 2006 Dutch study found that erotica had the highest addictive potential of all Internet applications. No wonder. Internet erotica is an extreme version of a natural reward that we're all wired to pursue: apparent mating opportunities.
Meanwhile, the "not sufficient scientific evidence" argument is not a sound argument where there has not been much in-depth study. Keep in mind that the tobacco companies long used the "little scientific evidence" argument to defend against the overwhelming circumstantial evidence that cigarettes were lethal. In fact, they hired doctors to do commercials assuring smokers that "Smoking is good for your lungs."
Science marches faster with less controversial behavioral addictions. Every month, new studies appear showing addictive processes in the brains of others who have used supernormal versions of natural rewards to excess (gamblers, over-eaters, video gamers etc.). This is why, in 2011, the 3000 doctors of the American Society for Addiction Medicine (ASAM) came out with a public statement clarifying that behavioral addictions (sex, food, gambling) are fundamentally like substance addictions in terms of brain changes.
We all have the brain reward circuitry that makes food and sex rewarding. In fact, this is a survival mechanism. In a healthy brain, these rewards have feedback mechanisms for satiety or 'enough.' In someone with addiction, the circuitry becomes dysfunctional such that the message to the individual becomes 'more', which leads to the pathological pursuit of rewards and/or relief through the use of substances and behaviors.— The American Society of Addiction Medicine (ASAM)
But 'porn addiction' isn't in the APA's DSM-5, right? When the APA last updated the manual in 2013 (DSM-5), it didn't formally consider "internet porn addiction," opting instead to debate "hypersexual disorder." The latter umbrella term for problematic sexual behavior was recommended for inclusion by the DSM-5's own Sexuality Work Group after years of review. However, in an eleventh-hour "star chamber" session (according to a Work Group member), other DSM-5 officials unilaterally rejected hypersexuality, citing reasons that have been described as illogical.
Just prior to the DSM-5's publication in 2013, Thomas Insel, then Director of the National Institute of Mental Health, warned that it was time for the mental health field to stop relying on the DSM. Its "weakness is its lack of validity," he explained, and "we cannot succeed if we use DSM categories as the "gold standard." He added, "That is why NIMH will be re-orienting its research away from DSM categories." In other words, the NIMH planned to stop funding research based on DSM labels (and their absence).
The World Health Organization appears poised to set right the APA's excessive caution. The next edition of its diagnostic manual, the ICD, is due out in 2018. The beta draft of the new ICD-11 includes a diagnosis for "Compulsive sexual behavior disorder," as well as one for "Disorders due to addictive behaviors."
Moreover, there's a growing body of research linking porn use or porn/sex addiction to sexual dysfunctions, lower brain activation to sexual stimuli, and lower sexual satisfaction. And plenty of anecdotal evidence of problematic porn use. Self-reports of distressed users—more and more of them in their twenties or even younger—recount:
There is sometimes an outdated assumption among non-addiction experts that these users are a tiny minority with preexisting conditions that make them uniquely vulnerable to addiction ('impulsives' or 'novelty-seekers,' perhaps). Yet new research is not bearing that assumption out. Moreover, when porn users stop overstimulating their brains, many bounce back to excellent emotional health. This suggests that "normal" brains are vulnerable to today's hypersexual stimulation.
The fact that not everyone who uses porn uses it to a point where it interferes with his life doesn't prove it cannot cause addiction. Not everyone who uses alcohol becomes an alcoholic, yet alcohol is unquestionably potentially addictive. Some experts meanwhile hesitate to label compulsive Internet porn use as an addiction because past research hasn't sufficiently revealed the withdrawal and tolerance phenomena. However, it's considered likely that the "missing" research is due to methodological challenges rather than the absence of the phenomena themselves. In the absence of formal research, here are numerous self-reports of withdrawal symptoms and evidence of tolerance culled from anonymous online posts of recovering users:
As of 2019, over 55 studies reporting findings consistent with escalation of porn use (tolerance), habituation to porn, and even withdrawal symptoms (all signs and symptoms associated with addiction).
The upper limit of natural dopamine release is sex. In theory, porn cannot be higher than sex. Obviously, most people have sex without becoming addicted to it. This is very confusing, and one reason why most psychologists once denied that porn addiction existed. However, it's likely that
chronic use (many hits on demand, like smoking packs of cigarettes, which is very addictive—more so than heroin use, in fact, because the latter happens with less frequency even though the buzz is bigger), and
overriding natural satiation mechanisms
both contribute to dopamine dysregulation and addiction. Moreover, as youngsters start out on streaming porn, their brains appear to be wiring sexual arousal to the unique attributes of screens: voyeurism, endless novelty, ease of escalation to more extreme stimulation, particular fetishes, etc. Even if they don't become addicts, many users are reporting sexual difficulties with real partners: Studies linking porn use or porn/sex addiction to sexual dysfunctions, lower brain activation to sexual stimuli, and lower sexual satisfaction.
With respect to the first point, there are likely to be more Internet porn addicts in the making than sex addicts, because a porn user can obtain constant hits of dopamine merely by clicking for free, whereas a sex addict must go through an entire seduction or other ritual. With respect to the second point about overriding normal satiety, consider obese people for a moment. Brain research shows that most are addicted to food, i.e., that their dopamine receptors have declined. Yet eating fattening or sweet food releases only half as much dopamine as sex/masturbation. Overriding feelings of fullness/satiety (eating when you're not really hungry, masturbating when you're not really horny) appears to cause dopamine dysregulation in some.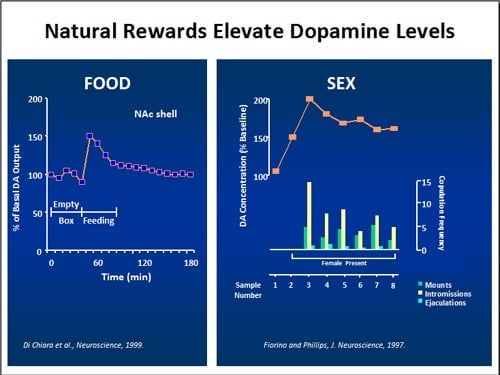 There's also something called 'sensitization' at work in addicts' brains, and multiple studies listed at the top of this page have found evidence of sensitization in porn users.
Time for informed choices
Now that so many Internet users have unrestricted access to today's porn they need to be able to make informed choices about its effects. Informed choice calls for in-depth research about the longer-term effects of the frequent use of hypersexual materials. Meanwhile, it is wise to make personal experiments by removing internet porn from your life for a few months and draw your own conclusions.
It would be good if researchers asked porn users to remove porn to isolate its effects. More research also needs to ask:
How many users are showing symptoms, in which age groups?
What percentage of the general population, without pre-existing disorders, become addicted or develop porn-related pathologies?
How many compulsive Internet porn users had no other addiction prior to use?
How long does it typically take heavy users to progress from asymptomatic to symptomatic? (In this regard, most of the users who have offered recovery self-reports firmly believed Internet porn was harmless for years before their symptoms gradually became too severe to ignore.)
Are porn users inadvertently rewiring their sexual tastes as they use?
Are youthful erectile dysfunction and numbed clitorises from vibrator use (which women report) related to porn-use related brain changes?
Is there a trend toward compulsive use, such that the percentage of porn addicts rises as stimuli grow more extreme? (Particularly important now that virtual reality porn has arrived.)
To what extent are pubescent/adolescent brains more vulnerable to porn addiction than adult brains?
How long does it generally take the brains of those adversely affected to bounce back to normal sensitivity when they quit, and what turning points reflect which neurochemical events?
Fifty years ago, as our diet was flooded with junk-food, our culture assumed that self-control would protect people against obesity—except for an unlucky few who were predisposed to become fat due to genetic vulnerability. Today, 79% of Americans have a BMI of 25+ (18.5-24.9 is normal, 30 obese), and about half of those are already at 30+. And the USA is only the eighth fattest country. As our diets have changed, so have our appetites. Our ability to register satiety has declined. Can we assume self-control is adequate protection against this phenomenon in the case of supernormally stimulating, streaming porn consumption?
Just as our ancestors didn't have access to plentiful, cheap food calculated to titillate human taste buds, they also didn't have access to novel sexual titillation at a swipe or click. Numbed brains seek more stimulation, so the ubiquitous options to goose the brain by swiping/clicking to porn or gulping a soda constitute a risk that past generations didn't face. It's likely that "unnatural" versions of natural reinforcers may put at risk more of the user population than do other addictive substances/behaviors.
A rapidly changing reality, such as the recent lightening-like transition from porn magazines to streaming online pornography, can leave research behind the curve. Perhaps the necessary brain research on porn users and recovered porn users could help both sides of the noisy porn debate to see which fears are well grounded and which make the effects of porn more dangerous by making its use risky or forbidden.